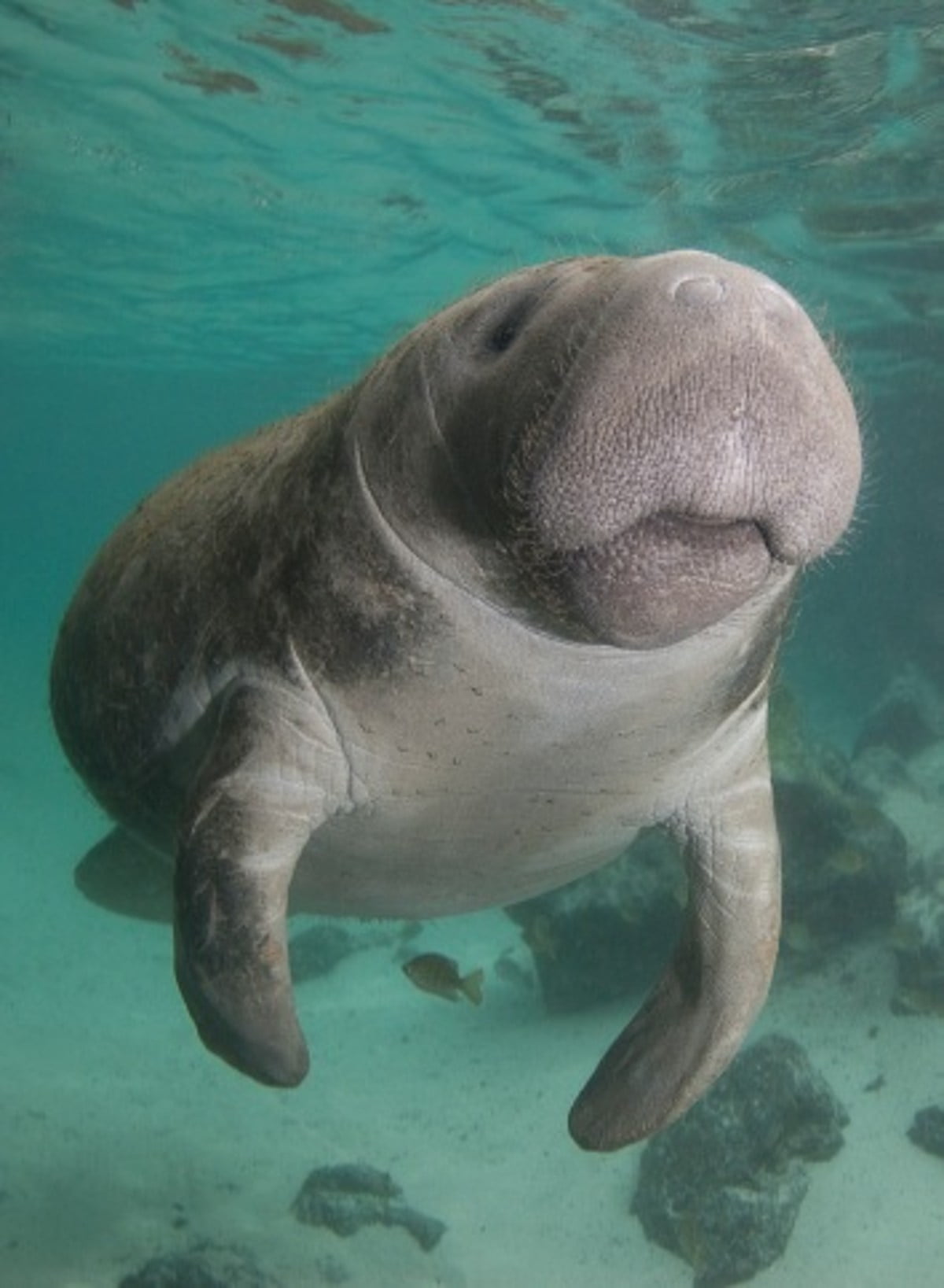 Join our most popular adventure! As we explore Kings Bay, in search of Florida's favorite resident, The Florida Manatee!
We encourage and answer all of your questions, and we hope to pass our love and knowledge of the Florida Manatee along to all of our guests!
Our store front offers a library of manatee educational materials. We have free handouts from U.S. Fish and Wildlife Service with manatee info and a local map of Kings Bay.
It is a privilege to swim with these majestic creatures, and a wild experience that is unique to Citrus County Florida!
What time are manatee tours offered?
Bird's Underwater offers public and private manatee tours daily, in Crystal River Florida. The early morning public manatee tour meets at 6am the majority of the year, and 6:30am for a few weeks in the spring and fall as daylight savings time approaches. We also offer public manatee tours at 11am and 2pm daily. Private manatee tours meet daily at 7am and 11:30am.

What manatee tour time do you recommend?
We always recommend the early morning public and private tours for the best experience. Bird's Underwater is usually the first manatee tour company off the dock in the morning, which means less people and allows for a more personal experience. The manatees tend to be located closer to the springs at this time and concentrated in higher numbers.
How much do manatee tours cost?
Our public manatee tours start at $59.95 and go up to $65 for peak manatee season (November-April). Private manatee tours are $449 for a boat that holds up to six people, larger private manatee tours can be arranged for an additional $75 per person. We offer a 10% military/first responder discount and a 10% discount for groups of 10 or larger. You may find a few cheaper options out there, but we always recommend checking Google reviews before booking. We include wetsuit, mask, snorkel, drinks, and snacks.
Where do the manatee tours go?
There is often a lot of confusion about Crystal River, Kings Bay, and Three Sisters Springs. Kings Bay is located in Crystal River Florida, and is fed by over 30 fresh water springs. Kings Bay feeds Crystal River, which runs for approximately six miles before converging with the Gulf of Mexico. The river used to be crystal clear, but is no longer so, due to salt water intrusion. The springs that feed Kings Bay are where the pictures of the manatees in crystal clear water come from. The most well-known spring in the bay is Three Sisters Springs, and is a constant 72 degrees.
During the colder winter months manatees congregate around these springs in order to regulate body temperature. Our captains and guides are on the water every day, and are going to give you the best experience possible! We would love to have manatees in crystal clear water every day, but this isn't always the case. We take tide, air temp, crowds, water temp, and experience into consideration and try to choose the best location for manatee viewing. You are welcome to request to go to Three Sisters Springs, but understand we may want to take you to other locations first. We will always do our best to give you the best manatee experience possible!
Where can I stay during my visit to Crystal River?
Bird's Underwater recommends the Fishbowl house, in Homosassa Florida. This property is just over 15 minutes from our shop, located on the water, and has kayaks included! The rental property  is just around the corner from the Ellie Schiller Homosassa Springs Wildlife State Park, where manatees gather during winter months. Learn more about the Fishbowl Rental by visiting https://www.vrbo.com/12054. There are several hotels in the Crystal River area, but most are not located on the water. We always recommend the Hampton Inn Crystal River, mention you are going out with Bird's Underwater for a 10% discount.
What other services do you offer?
We are a full-service scuba diving training and sales facility and a Scubapro Platinum dealership, one of only 23 Platinum facilities in the Eastern US. Bird's Underwater offers dive training at all levels! Bill "Bird" Oestreich is the only cave diving, Tri – Mix, and Megalodon Re-breather diving instructor in Crystal River, FL, with over 25 years of technical diving, dive training, and dive exploration conducted in over 5 countries.
Bird's Underwater also offers kayak rentals and scalloping tours.

Why Choose Bird's Underwater?
Bird's Underwater has been in business in Crystal River Florida for over 30 years.  
Our pontoon boats are enclosed in the winter months.
We have a dressing room in which you can put your dry clothes on after the tours on the cold winter days.This has become pretty common among the tour guides, but is not offered by all.
We also carry hot chocolate, coffee and tea in the winter months.
We are located on the water! Most operations require you to meet them at a public boat ramp, or be transported by their shuttle bus to the ramp.
Our captains all hold a US Coast Guard Masters License, and many are SDI Dive Masters!
We provide our customers with top of the line ScubaPro gear for their experiences.
We have a wealth of manatee and scuba diving knowledge, and our customer service is top notch!
For a more extensive list of FAQ's click here. Feel free to call or email if you have any other questions or concerns.